Features
These metal bands are driven by sprockets distributed across the width of the band, which ensures excellent guidance in a wide range of load and/or speed situations.
They have a number of characteristics that make them highly advantageous for operating in a multitude of applications:
They have a large open surface, which facilitates the passage of air, gases, or liquids.

They are longitudinally flexible, allowing for small diameters of sprockets and application cylinders.

They are easy to clean and clog-resistant.

They are lightweight, with a very small weight per square meter.
They are manufactured with two edge finishes (single edge and double edge) and in a wide variety of wire diameters, pitch, and module width.
Materials and temperatures
They can be manufactured with steel, AISI 302, and AISI 316.
They can withstand temperatures of up to 400 degrees.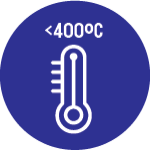 Blueprints
Download wire metal belt with single edge(TDA)
Download wire metal belt with double edge (TDA)
Accessories
This metal belt can incorporate the following accessories:
Finishes
This metal belt has the following possible finishes:
Applications
They are generally used for the transportation of lightweight products. For example, pastries, electronic components, or for transporting sheet materials such as paper, fabrics, plastics, etc.
And due to their open structure, they are widely used for coating processes in the food industry.