Features
The metal plates within the conveyor belt act as hinges, offering a large flat load surface and small turning radii.
Perfect alignment when installing side chains.
The plates can be machined with holes to ensure air recirculation for zig-zag type oven applications.
Materials and temperatures
They are manufactured in steel and stainless steel 304.
They can operate at temperatures up to 250 degrees.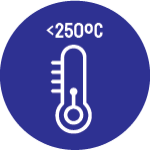 Blueprints
Download plate link belt (CT-LP)
Accessories
This metal belt can incorporate the following accessories:
Applications
They are highly versatile belts that are suitable for all processes in the food industry (pasteurization, washing, freezing, drying, baking...).
They are used for transporting metal parts such as screws, etc.
They are used for loading and unloading operations.
They are used for removing chips, waste, and sheet metal scraps.