Features
These belts are formed by alternating right-hand and left-hand spirals, joined by straight rods, to the side chains. These chains are usually hollow shaft chains, as the rods go through each chain pitch (in CTD belts).
There is the possibility of connecting the spiral mesh to the side chain every certain number of pitches using additional rods (CTN belt).
They can be manufactured for most standardized chain pitches: ½", ¾", 1", 1.25", 1.5", and 2".
These metal belts have different combinations of mesh, side chains, and alloys. They are manufactured in such a way that it is the chains, not the mesh, that bear the tensile load. Therefore, we choose the pitch and type of chain based on the load to be transported, and the type of mesh based on the physical characteristics of the product.
The determining factors for using side chains are:
Conveyor design.
Synchronization of different conveyors.
Ensuring traction in belts immersed in liquids or lubricants.
Need for smooth and uniform advancement under any load situation.
Lateral resistance of the belt.
Materials and temperatures
They are made of stainless steel.
The normal operating temperature limits are around 400°C; however, special chains can be manufactured to successfully operate at higher temperatures.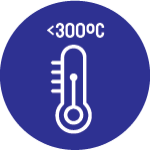 Blueprints
Download metal belt with lateral chain (CTD)
Download metal belt joined every N pitch with lateral chain (CTN)
Accessories
This metal belt can incorporate the following accessories:
Finishes
This metal belt has the following possible finishes:
Applications
Food industry:
Processes involving the presence of oil, such as industrial fryers.
Drying and baking ovens for foods like fruits, vegetables, preserves, etc.
Metallurgy:
Elevating conveyors.
Surface finishing facilities, such as degreasing, painting, varnishing, etc.
Fluid filtration installations.
Material handling:
Shrink-wrapping processes for large packaging.