Features
These belts are driven by direct traction. The special grooved cylinders that act as the drive and return in these installations engage precisely with the transverse rods of the belt, so there is usually no slippage.
The open surface can be varied by incorporating electro-welded rods that increase the distance between hooks (CMG-VE). This reduces the weight of the belt and increases the possibility of air circulation.
If required by the application, they can have side flanges and/or drag bars to transport rotating parts or bulk products (CT-CMG, CT-CMG-VE).
Easy to clean and resistant to clogging.
They have a smooth and flat surface.
Materials and temperatures
They are made of stainless steel.
They have the ability to work with temperatures up to 650 degrees.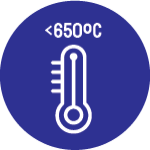 Blueprints
Download eye link belt (CMG)
Download eye link belt with electrowelded rod (CMG)
Download eye link belt with lateral chain(CMG)
Download eye link belt with lateral chain and electrowelded rod (CT-CMG-VE)
Accessories
This metal belt can incorporate the following accessories:
Finishes
This metal belt has the following possible finishes:
Applications
They are very versatile metal belts. They are used for all processes in the food industry (pasteurization, washing, freezing, drying, baking...).
And in the handling industry (internal transport in the glass and plastic industry).